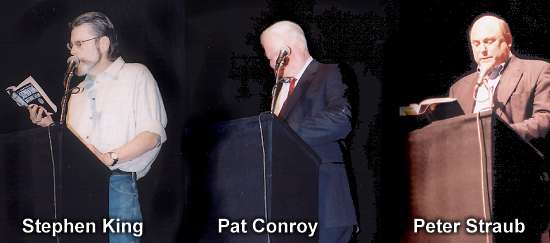 The benefit performance in New York was quite a successful event, as many of you know from being there. It was estimated that about 900 seats at Town Hall were filled. We entered the auditorium to the music of the Steve Elson-Art Barron Jazz Quintet. The evening began with a welcome and introduction by George Guidall, a colleague of Frank's in audio narration. A large photograph of Frank on a sailboat some years back, taken by his longtime friend Tom Donley, faced the audience from the center of the stage.
Before each author took their turn at the microphone, George introduced them with a few words and an audio clip of Frank reading from their work. It was quite a powerful effect. John Grisham was first, followed by Peter Straub. Both talked briefly and read from their recent work. This was followed by an intermission, where raffle tickets were sold to win various audio recordings at the end of the evening, and the quintet played more great jazz.
After the break Stephen King spoke about his own work and also about Frank, and then read a short story. Finally, Pat Conroy shared reflections of his life as a writer. All four authors shared from their hearts, and with good humor that Frank would have greatly enjoyed himself.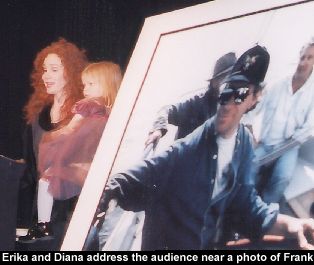 George then introduced a surprise speaker, Erika Muller, who brought little Diana with her on the stage. Erika gave a brief update on Frank's condition, adding that she had spoken with him over the phone that morning...a first for him since the accident. She then thanked everyone for their support, ending with a quote from Shakespeare, eloquently recited, while Diana intoned, "Mommy... Mommy... Mommy!" much to the delight of the crowd.

Along with two very generous gifts from one author present and another in absentia, it appears that close to $250,000 net was raised for the Wavedancer Foundation's Frank Muller Fund.

-- Leo Muller

(Original Promotion Below)